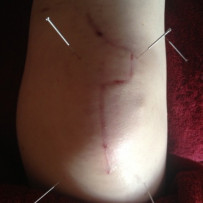 Testimonial: Acupuncture Helped Me to Heal Both Physically & Mentally.
Recently, I was involved in a road traffic accident which resulted in me undergoing surgery on my right knee.
Seven weeks after the accident, I was still in a lot of pain. I was restricted to very little movement in my leg, it was also purple from poor blood circulation and swollen.
A friend of mine recommended that I tried acupuncture with Suzanne and
I can honestly say it was one of the best decisions I've made. Not only did it help me physically but also mentally.
After the first session, the blood circulation in my leg improved immensely, the swelling reduced and I felt that I had more movement in my leg.
At one stage I felt so down that I did no physio whatsoever. I did however have one treatment with Suzanne in between physio appointments and as a result of the acupuncture the movement in my knee actually improved by 20 degrees.
I was informed after my operation that the numb sensation in my leg was something that I would have to live with for the rest of my life. However, after a number of acupuncture treatments the numbness has reduced and the feeling has once again returned to my leg.
It has nearly been six months since the accident and I'm finally feeling like myself once again. I can't thank Suzanne enough for everything she's done for me and for helping me through some of my most challenging days to date.
Thank you! ????????????
Sarah, D. Co, Dublin.