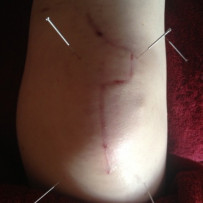 ACUPUNCTURE HELPS TO SPEED UP RECOVERY FROM TRAUMATIC INJURY.
One of the little-known gems of Chinese Medicine is that it can help a speedy recovery from traumatic injuries, on both the physical level and recovery from the shock too. Recently, I have been working with a girl who was thrown off her bike in a road accident, resulting in serious surgical repair to her knee. This left her 7 weeks later, still swollen, purple discolouration around the whole knee, swelling, pain and very little range of movement. In TCM, injuries are classed into stages and as she arrived post 3 weeks she had moved into the third stage, meaning that I focused on warming the area and stimulating blood flow with acupuncture and the use of both Japanese indirect moxa and direct moxa on the needle Chinese style. Within a couple of treatments, her circulation started to improve and she no longer got that purple hue, the swelling subsided and her rate of movement went up 12% in one week between visits to the physio. A few weeks later,she is now able to sit with her leg bent and can go for small walks too.
So, how does acupuncture help?
It accelerates fracture healing, halts muscle wastage, achieves higher retention of mobility and there is a lesser chance of any post fracture problems.
It also relaxes the nervous system, stimulates the nerves in the skin and muscles and increases the body's release of natural painkillers and feel good chemicals, endorphins and serotonin.
Besides the help it gives physically, it has also helped at the same time to increase her wellbeing in herself and to bring her back to a place where fear and shock isn't locking her in everyday allowing her to be able to start enjoying life again.
So, don't worry about when to go for acupuncture if you break a bone or get injured, just do it and be prepared to be amazed at how it speeds your recovery up.
Drogheda Acupuncture and Wellness Clinic-SuzanneCafferky
0877937771